link up and join in on the miscellany!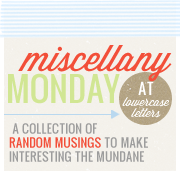 it has been quite some time since i have hit the keys and written a blog post... i promise that i have actually been busy and wanted to do some blogging- i will get better.
[1] since my last post i am now officially married. woah. big time now, folks! married life has been great thus far! along with being married comes a little thing called a budget. multiply this word when you are currently raising support to work at a church and trying to find a job for the rest of the summer and that is what we are up to right now. a few ways that we have helped our food budget are:
purchasing a refillable cup from kangaroo gas station- free slushies and drinks all summer long
buying a frosty card for $1 and getting free junior frosties for the rest of the year
camping out for 24 hours at a chickfila grand opening to get chickfila for a year! (i am most excited about this, as i don't drink soda and while i enjoy a good frosty, i prefer chickfila any day of the week!).
[2] in lue of the fact that i am now married i will need to be changing my blog header... i will get to that one day- i am tired of the squares... i think i want a change! thoughts?
[3] i am starting training for my camp job this summer today- i am a little nervous. i am a counselor at a reading camp... it sounds nerdy, it might be a little nerdy... but just a little bit! we do fun outdoor stuff in the morning- i am talking serious stuff here- animal tracking and venturing out on pontoon boats, just to name a few! prayers appreciated.
[4] married life has made me craftier- it is either that or the fact that i haven't had all that much to do until now... either way- i created something for our kitchen and plan to share it later this week- go ahead, get excited!
[5] within a few weeks of our wedding we had all of our pictures back from the photographer! i will certainly be sharing all.of.the.details later on but just want to leave you with one for the road.
just a thought.