this past weekend we had valentine's day... the original plan was to not exchange gifts since we are not exactly rolling in extra cash, but i decided to surprise sean with a small valentine present. when i told him that he didn't seem too alarmed, and just said that he would get me something small since i got him a little something. when i went to target to get valentine's wrapping it was all 75% off because it was the week after valentine's day (score!) so i grabbed a bag and some tissue because it was practically free. the bag was huge so i found these two ridiculous bride and groom stuffed animal bears to throw into the bag, thinking that sean would really be impressed with the large bag... little did i know that i was about to be instantly humbled. i wrapped up his present, thinking that he would be so impressed and then feel silly for giving me a bag of candy... so, he opens up my present and gets very excited, i then wait for my present. i didn't see anything on him when he came in, so i just figured that he was planning on waiting until saturday (which was the original plan). then, after a few moments sean pulls out a small white box from a jewelry store, following that box he then pulls another one from his bag. i started freaking out. i was instantly humbled. the presents that he had for me were far better than what i got for him and i felt so ridiculous thinking that i was being so cunning with my giant bag of tricks.
so this is my present to sean...
and here is what he gave me... so beautiful! it is the necklace and earring set that i wanted to wear in the wedding and have for my bridal portraits! he was just going to surprise me and give them to me right before my portraits, but then decided to give me my present early when i told him i got him something small... what a trickster.
the next day we went downtown and had lunch at
blossom
... it was so yummy! i have been wanting to try it for so long- we went for lunch because dinner would have totally broken the bank (as if my present hasn't already!). the rest of the day we just walked around and enjoyed the incredible weather! it was in the 70's... in february... incredible!
i am so excited for the new warm weather- cannot wait to enjoy outside! my friend
lindsey
and i have been trying to walk outside more since the weather has been a little warmer... i must admit that i have really enjoyed that!
anything exciting or random going on with your life? link up and share the randomness!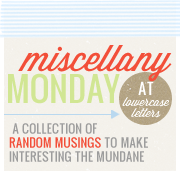 just a thought.