[one] the last few days at home were great- it was so nice to be able to relax and be in mount pleasant. over break we tried wedding cakes and they were so good... and that is actually an understatement. my stomach is still thanking me for letting it taste that deliciousness.
[two] good news- my favorite shows from last week provided me with some delightful wedding dance inspiration... many thanks to dancing with the stars and glee.
first up, "tootsie roll"... dancing with the stars- the actual dance starts around 1:43
and, "marry you" ... glee- the video is mirrored for some reason- i don't know why it was recorded that way.

for the record, i'm just kidding... i don't know how people would feel about us bopping down the aisle like that... haha.
[three] i didn't really get to do any black friday shopping this year, i didn't really have anything that i wanted to buy, but i had to work so it wasn't really an option- i did get a few good deals though!
[four]
one fully week of classes and then 3 days of exams separate me from being finished for this fall semester- hello extra long Christmas break!
[five]
our engagement announcement was in the paper on sunday- page 4G in the post and courier... if you live in charleston would you be a doll and save that page for me!? (pretty please!)
[six] i am subtly (or not so subtly) hinting that i want a willow tree nativity scene for Christmas this year... i just love it!
what is your favorite Christmas decoration to put up in the house?
link up with
carissa
- it is a miscellany monday!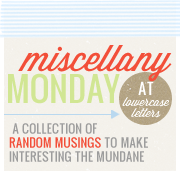 just a thought.