link up your randomness!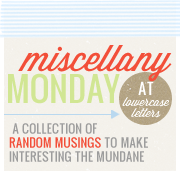 1
. my absence from the blog community does not mean i don't like you... just that i have been incredibly busy and due to the fact that...
2
. my computer is completely broken. it is sitting in ccit (our campus computer fixing people) as we speak and they are trying to fix it... we shall see how that goes.
3
. this is my first blog post from clemson since moving back here- yep. that's how crazy it has been!
4
. the apartment is looking super-cute- i would take pictures and show you, however, due to randomness numbers 1 and 2 i have been unable.
5
. i get to order my clemson ring this week. i. am. beyond. excited.
6
. i like to have the foodnetwork on when i am cooking or eating supper because it makes me feel like my food is better than it really is.
7
. mccormick makes these fabulous "perfect pinch" seasoning options... go check them out- my chicken tasted like a professional chicken last night... as in a professional made it, not that frank sinatra was embodied in a chicken, just in case that wasn't clear.
alright... this is for sure a quick post...
just a thought.