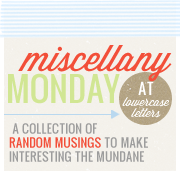 here's another go at miscellany monday from carissa at
lowercase letters
.
[1.] i
like
must eat special k with vanilla almonds for breakfast
every morning
. it just doesn't feel right to start the day off without it... it may seem boring, but that's my life. what can i say?
i'm a creature of habit
... may that be for good or bad.
[2.] i used to think that all you needed to become an indian (native american, not actually from india- just to clear that up) was some
corn and sunflowers
... i tried for the greater part of my childhood to get my mom to let me grow corn and sunflowers in the backyard as to
become more like pocahontas
... i even tried to cut all of my paper to have fringe on the end so that it would look like an indian- i don't have rational for this, that's just what my mind thought.
[3.] textures freak me out in food... there are tons of textures i can't stand- for example,
i can't bite into a strawberry
- i know i'm missing out- i love the taste... just not the bite.
[4.]
"just push the button"
... that's all i've heard this morning, i just can't seem to work this fancy remote at my father's house- liam (who is 3) just says to "push the button" in order to make the tv work... all i'm trying to do is find some max and ruby for the kiddo to watch... so much for trying to be helpful!
[5.]
actually... i'm in college- thanks though...
in high school i was always asked what college i go to, now that i'm over halfway done with college people keep asking me if i'm about to be in high school or if i've decided where i want to go to college... my repsonse: yes, i decided 3 years ago... i just don't think i look 13- but maybe that's just me. one day i'm sure i will be pleased for people to not believe my real age.