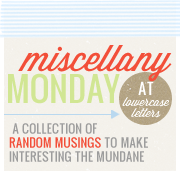 hello sweet friends- it is time for miscellany monday again! i hope that you enjoy the miscellany!
[1.] last week
the atm machine ate my debit card
... which means that i don't have a card until the end of this week or beginning of next week. needless to say, i haven't been spending any money- which is good, since i'm trying to save money to buy a car.
[2.] i haven't done laundry in
way too long
... today i must conquer my whites, darks, and colors.
[3.] i secretly
hope to be rachael ray
... she is just so festive and has all kinds of fun sayings. i like to write "evoo" on my grocery list just so i can be a little bit more like her- sad, but true.
[4.] in the last week i babysat 2 boys (on two different days), 2 dogs and a cat- i guess that i'll watch all creatures big and small- that, or i'm just a poor college student... yep- that's it.
[5.] never in my whole life have i been
fishing
... it is true- i've lived in mt. p my whole life and never been fishing- i'd like to go sometime though.
just a thought.