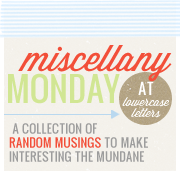 you know the drill- it is monday, that means it is time for some miscellany!
[1.]
whenever i read a book (or anything in general)
i read really, really fast
. i don't say this as to try and brag and imply that i have some super high intelligence level-
because that is surely not the case
... though i do read really fast- which is a blessing and a curse all rolled into one! it means that i get to read and know what is happening, but that the book gets finished that much faster- i.e. i run out of things to read fast.
[2.]
i don't like
holding hot beverages
... i don't think that i was ever burnt as a child, but i just can't handle it when i have a hot drink and it doesn't have a lid.
[3.]
i apparently
go to a lot of weddings
... when i went to bed bath and beyond to buy a shower present for my friend aly, the woman at the desk said, "are you familiar with our registry system?" i then replied with a simple, "yes" to which she then said, "that's right- you are in here all the time- that's why you look so familiar"... however, when i got to thinking about it- i do know 12 people getting married between may and december of this year... i guess that is a lot.
[4.]
i have only been to the beach
once or twice
this entire summer... i blame it on the fact that i work a lot... and that on the days that i have off (like today) it is raining, but don't get me wrong- thankful for the rain- we need it!
[5.]
i'm on the hunt for my very own slr camera... trying to decide between a nikon and a canon... i've used both and like them equally, so at this point i'm thinking it is just going to come down to the deal that i can get.... help me out! do you know of anywhere that i can get a deal? do you have thoughts on what kind of camera i should get?
that's all i've got for today- i hope that you've enjoyed the miscellany! happy monday!
just a thought.