click to head over and link up!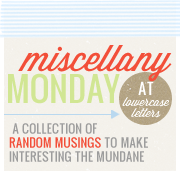 [1] leggings are not pants.
i don't know why this trend bothers me so much, but it does... and leggings are not pants, therefore- they should not be worn as such.
[2] nannying venture.
i spent thursday through saturday with 2 girls that i babysit for while their parents (who i love... a lot) went away for a couple of days to spend time with each other. it was lovely. i love their girls, and once again- i continue to gain respect for stay at home moms. not that they were bad, it is just tiring (i guess that's a "duh" statement).
[3] nap time.
yesterday i took a 3.5 hour nap after church. this is not a coincedence that i just posted this after my nanny time- i was just. that. tired.
[4] hiccups.
when i get the hiccups i get them for a really, really long time. i have them right now, which is making it very difficult to write right now. what's your favorite method to get rid of them?
[5] change of scenery.
in 18 days i will be moving back up to clemson. bittersweet. love clemson and my fabulous friends, but i will miss charleston a lot too. trying to find joy and peace, and most of all- rest in Him.
[6] still hiccuping.
help me!
[7] wii master.
i got a wii for my birthday- i am so excited! i only have one game right now (because those things are super pricey!)- but i am looking forward to getting more and playing with fun friends!
[8] heat wave.
today i was watching the news and it said that the heat index for today is going to between 115 and 118 degrees... excuse me, but that is crazy hot- the pool will be so welcomed today, if it doesn't boil over first
[side note: i know that it won't really boil over, just didn't want you to think that i believed that]
.
that's all for today! have a great monday!
randomness is meant to be shared- so don't forget to link up!
just a thought.